Free webinar
Want to get the most from Studio 3T?
Join our free live webinar
Querying effortlessly using our smart toolset.
Using SQL to onboard your knowledge of MongoDB fast
Using Schema to fine tune your data
Creating your ideal workspace with neat customisation
Each live session will last 20-30 minutes, with plenty of time to post your questions for our engineering team.
Register for the US Webinar
Register for the EU webinar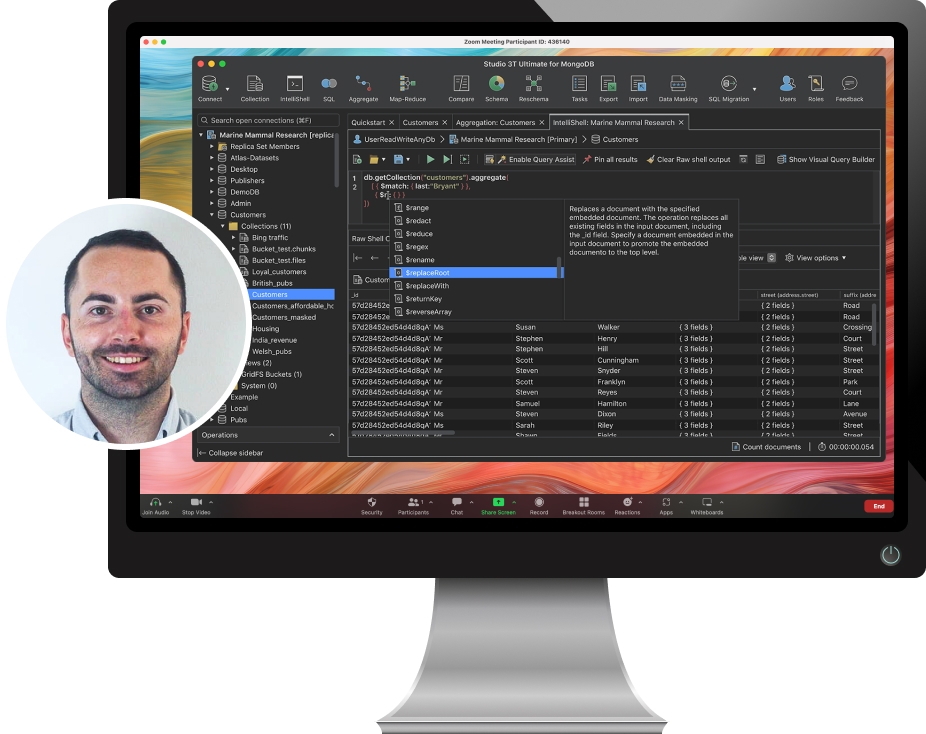 The 2023 Studio 3T webinar calendar
Discover the available dates, then book your slots through the buttons above
EU – Feb 23, 10:30 am (CET)
US – Mar 2, 11:30 am (ET)
EU – Mar 9, 10:30 am (CET)
US – Mar 16, 12:30 pm (ET)
EU – Mar 23, 10:30 am (CET)
US – Mar 30, 11:30 am (ET)
EU – Apr 6, 10:30 am (CET)
US – Apr 13, 11:30 am (ET)
EU – Apr 20, 10:30 am (CET)
US – Apr 27, 11:30 am (ET)
EU – May 4, 10:30 am (CET)
US – May 11, 11:30 am (ET)
EU – May 18, 10:30 am (CET)
US – May 25, 11:30 am (ET)
EU – Jun 1, 10:30 am (CET)
US – Jun 8, 11:30 am (ET)
EU – Jun 15, 10:30 am (CET)
US – Jun 22, 11:30 am (ET)
EU – Jun 29, 10:30 am (CET)
US – Jul 6, 11:30 am (ET)
EU – Jul 13, 10:30 am (CET)
US – Jul 20, 11:30 am (ET)
EU – Jul 27, 10:30 am (CET)