Team Sharing
in Studio 3T
It's good to share. Share your MongoDB queries and save time. Save a Friday for everyone in your team.
Try Team Sharing for Free
Collaborate in confidence with your teams
Organize your queries, scripts and connections, and share them with your co-workers quickly and securely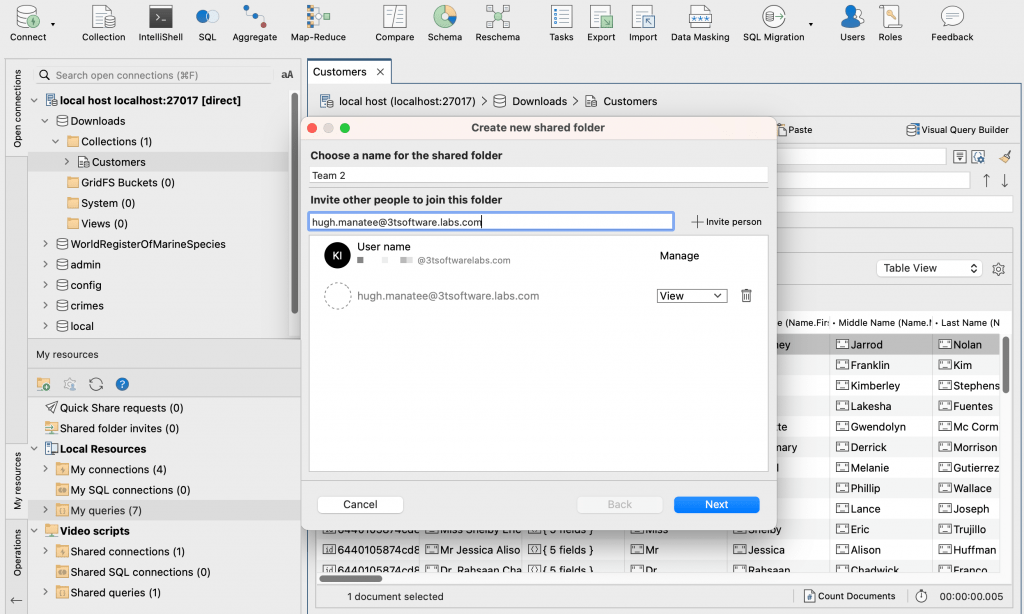 Create a shared folder and invite others to join
Specify a folder name and type in email addresses to invite other users to share your resources.
Control the levels of access
Manage user access to the shared folder using levels of permission: Manage, Edit, or View.
Choose the resources to share
Select the connections, queries, or scripts that you want to share.
Accept an invitation to join a folder
When you receive a notification, accept the invitation to access the folder. You'll see the folder in the My resources sidebar.
Edit the shared resource and save it
Make the appropriate changes, save them, and the updated resource is instantly available to all team members.

Share resources with the people you need to, with ease and speed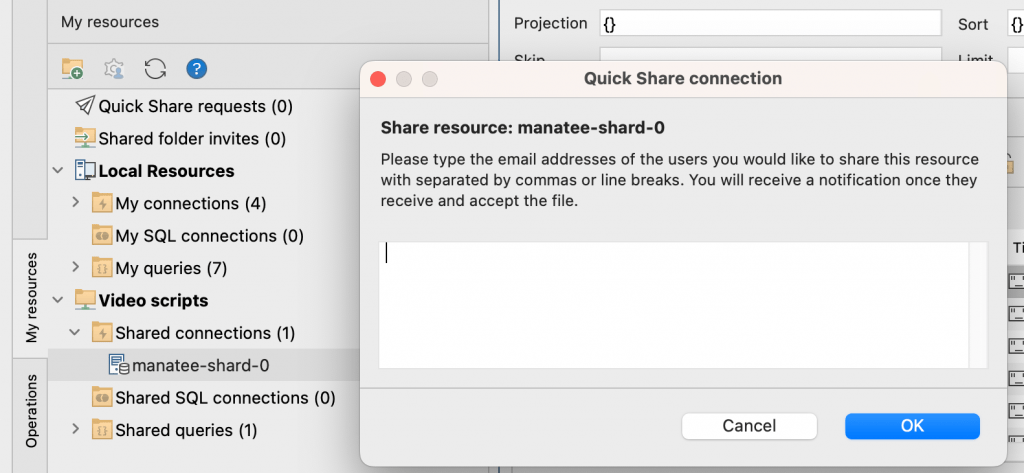 Drag and drop
In the My resources tree, simply drag a query, script, or connection and drop it in your team's folder. When you share a connection, you can choose to include or exclude user credentials.
Quick share
Choose a query, script, or connection and use Quick Share to type in the email addresses of the users you want to share the resource with. They'll be notified and when they accept the invitation, the resource will be available to them. You'll be notified too that they've accepted.
Learn More
Why use Team Sharing?
With Studio 3T's resources tool, you can share your MongoDB queries, scripts and connections with peace of mind, and develop them as a team.
Team work
Collaborate with others whether you're the new team member that is onboarding and needs help connecting to their MongoDB database or you're writing complex queries and need input from the person who is the in-house MongoDB expert.
Instant availability
Share your MongoDB resources and make them instantly accessible to others wherever they are, whether that's in the office or working remotely at home. Updated resources are instantly available for everyone too.
Trusted users
Have complete confidence that you're sharing with verified users and that they've been granted access to your resource folders.
One tool
No more switching between applications and cutting and pasting, simply drag and drop when you need to share.
Security in Team Sharing
Learn more about the security measures we've put in place to protect your data
View security document