---
Session Restore | Enable a time-saving preference
Session Restore is out of beta! Save time and let Studio 3T remember which tabs you had open by checking Enable session restore under the Preferences tab or under the Quick Options section of the Quickstart tab.
We initially rolled out the feature (in beta) with Studio 3T 2019.7. Let us know how you've found it so far – and in case you haven't tried it yet, we hope you do now ?
Connection Manager | Better UI for all supported connection types
Now you can find all four supported connection types – Standalone,
Replica Set, Sharded Cluster, and DNS Seedlist – in the Connection
Manager dropdown.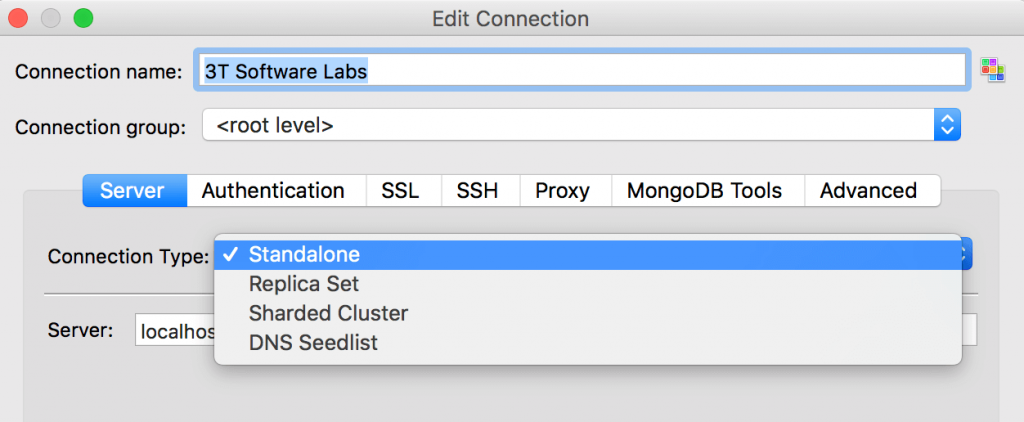 Connect to each connection type easily through an improved UI that will show relevant fields depending on the type you choose.
Find the step-by-step guide for each connection type in our Connection Manager documentation.
Other fixes and improvements
Aggregation Editor – Fixed issues with non-international keyboard layouts
SQL Export – Fixed crash that could occur with the "Move down" button
Table View – Fixed crash that could occur when dragging values during a running operation
Quickstart and What's New tabs – Resolved flickering issues
Data Compare and Sync – Fixed errors that appeared when working with documents containing multiple children
Refresh View – Fixed menu entry and shortcut for "Refresh View"
Application startup on Linux – Improved startup times
View the full list on our change log.
Download Studio 3T
Upgrade to the latest Studio 3T version, or start your free 30-day trial today:
Try Studio 3T 2020.3